This is the video we saw in class. What sports can you see?
MEMORIZATION EXERCISES
- Sports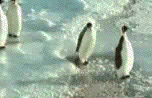 " A penguin
was walking
along the ice when..."
When talking about the past we can use the SIMPLE PAST, PAST CONTINUOUS and the PAST PERFECT. Shall we practise?
Exercise 1
Exercise 2
Past Perfect
(match)
Past Perfect ( put words in order)
WORD FORMATION
Video we´re going to use in class +
HAND-OUT
Quiz:

SPORTS
. Listen to the recording and get ready for the quiz. Can you remember all the words?
http://www.bubblejoy.com/view_p.php?id=9349798
CLICK HERE to do the QUIZ